Posted by
jstutz1

| Posted in Uncategorized | Posted on April 14, 2019
4/8 – 4/12
It sounds like you all had a GREAT spring break!  I loved hearing all of the Kindergartners stories about what they did over break!  I missed your sweet Kinder!!  Over my break, I got to go to Edinburgh, Scotland, and London.  One of those bucket list items for sure for me!  Mr. Stutz, and our son's Josh (22) and Tom (18) all took the trip together.  It was absolutely AMAZING!!! I was refreshed and ready to come back and continue learning with your Kindergartner.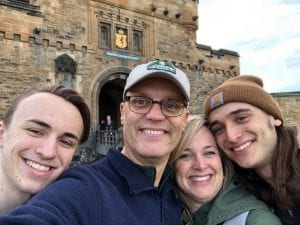 Popcorn Words:  as, has, him, jump.  The kinders did so AMAZING with 4 new words this week!  
Math:  This week we continued to work on Unit 4.  The kindergartners explored different ways to solve addition problems.  They pretended to be the teacher and I was a student.  The kinders LOVED explaining to me EXACTLY how to add partners together.  They taught me that I can use my fingers to show partners, and then add those partners together by counting all of my fingers.  Then, they taught me that I can do something called "counting on."  I can put a partner in my head and then count on with my fingers to add the numbers together.  Another thing they taught me was that I can also use objects to count, like unifix cubes.  I can show the partners with the cubes and then count all of the cubes for my total.  Teaching someone else is known to be the best way to learn something yourself.  Having the kinders teach me was an awesome way for me to see what they know.  I was SO IMPRESSED!!  We also explored story problems this week.  The kinders did 4 different story problems and drew and wrote these on a piece of paper you likely saw come home this week.  They did GREAT!!  We will wrap up Unit 4 over the next week and then review for a unit test the following week.
Writers Workshop:  This week we wrapped up another Non-fiction writing piece.  The kinders worked hard on writing an All About Pigs book.  They added a new piece to this book, a Table of Contents page.  The Kinders did a GREAT job of gathering information, they watched videos, made tree maps and put this information together to make these books.  I am SOOO PROUD of them!!  They seem to be REALLY enjoying this writing unit!  This week we will be doing our test/On-demand writing piece for this unit of writing.  I know the kinders will do fabulous!!
Readers Workshop:  In Readers Workshop this week the Kinders worked on being Avid Readers of Non-fiction books.  They noticed how Avid Readers of Non-fiction books don't look at characters and feelings in these types of books.  However, they look at things that they are learning about and things that make them thing, Wow!  The Kindergartners worked with their new Reading Buddies to explore Non-fiction books.  They shared pages in these books that made them think Wow or maybe even made them think about a question they might have.  It was AWESOME to hear their conversations about these books and all the different topics.  We explored how to have these conversations using words that we might even begin to sound like an expert!  They certainly are Avid Readers of Non-fiction books now!!  
Field Trip Update:  Thank you to all of the volunteers who signed up to chaperone for our Spring Field Trip.  Our field trip will be Tuesday, May 7.  We will leave the school by 9:30 a.m. and return by 2:00 p.m.  Unfortunately, I can only take 6 chaperones.  I have emailed all volunteers to let you all know if you will be chaperoning.  Please let me know if you have any questions.  The good news is that EVERYONE is invited to attend our second part of our field trip.  We will be having a sack lunch at Hager Park at 12:00 and then playing, returning to school by 2:00 p.m.  Younger siblings are welcome to attend the lunch and park time as well. 
 Mystery Reader:
Charlotte was THRILLED to see her Pop come in and be our Mystery Reader!!  Mr. DePew surprised us with a wonderful classic,

Stellaluna

by Janell Cannon.  The Kinders were absolutely enthralled with this story, waiting on every word.  Thank you for visiting with us Mr. DePew!! 
If you are interested in being a Mystery please sign up through our signup.com page listed under volunteer opportunities or email me at jstutz1@hpseagles.net.  I am more than happy to accommodate a date for you.
End of the Year Push:  We are rapidly approaching our end of the year.  I cannot believe it!  This year has gone so very fast!!  With the end of the year comes some learning that needs to take place.  We have more writing, math and reading to get through.  We also have some goals that we will try to reach.  The kinders work very hard every day at school.  They work in reading groups, small group interventions with math and in many other ways to help them reach goals to be ready for first grade.  Please continue to work on sight word flashcards, be sure to also visit our Clever page for fun educational games.  Located on the right side of our blog.   I will continue to work endlessly with your child to prepare them for first grade.  Let me know if you have any questions. 
Rock Collections:  This week a note came home with your Kinder about a Rock Collection, due Thursday, April 25.  We started our discussion of rocks after I read them the book, I Love Rocks by Carl Meister.  They were so excited!  Sounds like we have LOTS of rock lovers in our classroom!  I loved sharing my collection with them! They were soooo excited to get a chance to look at, feel and explore my rocks. I can't wait to see their rocks!  Have fun collecting!!  Let me know if you have any questions.
Superstar Book Lovers:  We have wrapped up our Superstar Book Lovers this week.  Thank you all for helping your kinder pick their favorite book(s) to bring in and share with us.  We will be starting another star student activity soon.  Get ready…..Button's will be coming back to your house for another sleepover to wrap up our year together!!
Upcoming Dates:
Monday, April 15…ART, LIBRARY, *Library Book Due!

Tuesday, April 16…STEAM, *Take Home Books

Wednesday, April 17…MUSIC

Thursday, April 18…GYM, *Take Home Books

Friday, April 19…ART

  

Thursday, April 25…Rock Collections Due

Tuesday, May 7…Field Trip to Hemlock Crossing Nature Center and then Hager Park.  Bring a sack lunch and water bottle.  We will be leaving by 9:30 a.m., returning by 2:00 p.m. back at school.