Posted by
jstutz1

| Posted in Uncategorized | Posted on November 19, 2017
November 13 – 17
Popcorn Words:  or, for.  We discovered that the word or is in the word for.  We referred to one of our reading strategy buddies…chunky monkey to discover this chunk inside the word.  We found the chunk in many different words this week.
Math:  This week we continued to work in Unit 2.  Continuing to notice the patterns in adding 1 and taking away 1 from numbers.  The Kindergartners also practiced writing these number sentences.  I was so impressed by their ability!!  We are even beginning to write objects to show our number sentences.  It is so fun to see them build on these math skills.
Readers Workshop:  This week we talked about the different strategies we can use to help us read.  We talked about how some words we just know…maybe they are our popcorn words?  Like the word I….we can read that one fast because we know it.  They also discovered that they can look at a picture to help them figure out a tricky word.  We talked about using our eagle eye to look at the picture and then try the first letter in the word to see if that matches?  We also talked about how we need to get our lips ready to read words.  Our lips help us hear sounds and get us hearing the sounds in a word.  The Kindergartners practiced these skills this week with some writing examples that they are keeping in their blue book boxes at school.  It has been so fun to see them connect these strategies to their reading practice.
Writers Workshop:  This week we dove deeper into writing like a scientist.  The Kindergartners finished their first 4 page booklet on a topic.  Their topic they finished writing about was frogs.  Each of them were given a picture of a specific frog that they wrote about. The Kindergartners made a front cover and then 3 pages with details.  Some details included the main color of their frog, their frogs name and if it was smooth or bumpy.  The Kindergartners did a GREAT job!!
Mystery Readers:
Tuesday Ainsley was sooo surprised to see her Grandma walk through the door as our Mystery Reader.  Her Grandma read the book

Ella Takes the Cake

by Carmela D'Amico.  An adorable story about a little elephant who wants independence.  Along her travels she helps so many other elephants.  Such a cute story about helping others and seeing things through to the end.  Thanks for visiting with us Ainsley's Grandma!!
Thursday Ashlyn was overjoyed to see her Mom walk through our door as the Mystery Reader.  Mrs. Jones read us a great story!  Thank you so much for reading to us Mrs. Jones!!  So sorry I was not here to hear the story too….or take some fun pics to share!!!
Buttons:  Oh what fun our classroom buddy Buttons has had visiting all of your homes!!!  Thanks so much for taking such good care of him while he was in your care!!!  He will get a second chance to visit with you later in the school year!!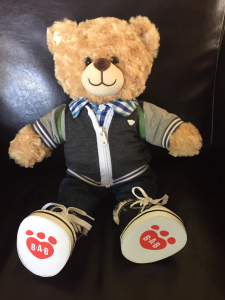 Homework:  This week your child brought home an October Homework Award with smarties!  I will be giving out these awards to students who complete their homework every week each month.  I am sooooo proud of all of their hard work and your continued support with our school and home connections.
Box Tops Winners:  On Tuesday we were sooooo excited to receive doughnuts from Sprinkles!!  Our class was the top box top earners!!!  Wohoooo!  We LOVED our yummy blue and yellow sprinkled doughnuts!!
Upcoming Dates:
Monday, Nov. 20…ART, Stone Soup Day!  Bring your contributions please in the baggy provided that was sent home last week.

Tuesday, Nov. 21…STEAM.

Wednesday, Nov. 22…CHARLOTTE'S B-DAY!!!  NO SCHOOL…THANKSGIVING BREAK.

Thursday, Nov. 23…NO SCHOOL…THANKSGIVING BREAK.

Friday, Nov. 24…NO SCHOOL…THANKSGIVING BREAK.

Monday, Nov. 27…GYM

Tuesday, Nov. 28…MUSIC

Wednesday, Nov. 29…LIBRARY, ART

Thursday, Nov. 30…STEAM

Friday, Dec. 1…STEAM, Early Release Day…Dismissal at 12:15 p.m.  

Thursday, Dec. 14…Holiday Music program, starts at 6:30 p.m…more information coming soon.

Thursday, Dec. 21…Holiday Classroom Party – 2:00-3:00 p.m.  More details coming.  

Monday, Dec. 25 – Friday, Jan 5…NO SCHOOL…Holiday Break.  School resumes on Monday, January 8.