Posted by
jstutz1

| Posted in Uncategorized | Posted on January 21, 2018
1/15 – 1/19
Popcorn Words:  said, make.
Martin Luther King, Jr. Day:  We celebrated Martin Luther King, Jr. Day on Monday.  We talked about how Martin Luther King, Jr. often spoke about wanting people to get along and worked hard to change laws (rules) that were not fair.  We made friendship bracelets, found popcorn words within a simple book about Dr. King and looked at a Let's Find Out newspaper and talked about his initials  MLK. I love that we can together celebrate our uniqueness and friendship!  It is so heart warming to see the kinders fill each other's buckets each day.  
Math:  This week the Kinders explored more subtraction and addition stories, finding groups of numbers, teen numbers, manipulated shapes to create new shapes and learned about sorting objects.  On Friday, our Math games day, they had fun exploring these concepts.
Exploring with shapes.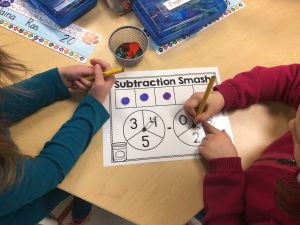 Subtracting practice.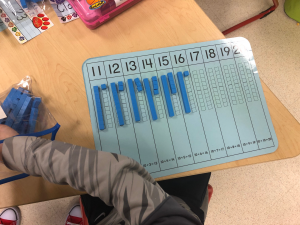 Building teen numbers with ten sticks and ones cubes.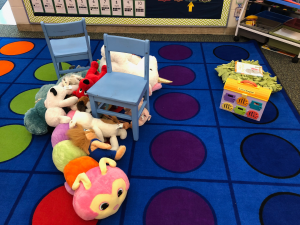 Exploring sorting:  sorting toys with legs and toys with no legs.
Teen number practice with play dough.
Fun with sorting objects by color.
Readers Workshop:  This week we continued to explore how to rev up our minds to get ready to read.  We looked at how we need to use all of our super powers to keep trying with tricky words.  The kindergartners practiced stretching tricky words all the way through the word and not giving up.  We picked some pretty big words to stretch:  harmonica and supersonic!!  It was so awesome to see the kinders work hard at chunking the word, stretching sounds and slowly picking up speed once they gained confidence in their new skills.  We touched on some of our reading strategy buddies that we refer to often:  Stretchy the snake, trying lion and flippy dolphin.
Writers Workshop:  The Kinders practiced writing a small moment story about our fun fort day.  We talked about how fort day is a watermelon story.  We needed to zoom in on one part of the day to write about.  The seed story that we picked to write about was when we actually built our forts.  The Kindergartners did a great job writing this week.  They were also introduced to a new story map to use when writing a seed story.  A story map is helpful for them to use when writing a story over several days.  Can you believe what they learn in Kindergarten with writing?!!!  Story maps, seed stories….WOW!!  I am so amazed by these little minds!!
Writing about our fort day.
We LOVED writing in our forts!!
Handwriting:  This week we are continuing to work on writing our lowercase letters.  We work on these skills carefully.  Being mindful that uppercase letters are used at the beginning of sentences and that lowercase letters are not.  We are also practicing writing our first and last names.  Noticing the uppercase and lowercase letters in our name.
Our friend Charlotte was awarded with an Outstanding this week from mrs. Reagan!  She is another example of being respectful, working hard and learning well!!  Congratulations Charlotte!!
Playing with Friends:  This week we got together with our friends from Mrs. Baker's Kindergarten class.  We had so much fun exploring their room, toys and even making some new friends!!  Thanks for having us Mrs. Bakers Kinders!!
Star Student Book Lovers:
Makayla shared 2 of her favorite books with us.  We LOVED hearing her books!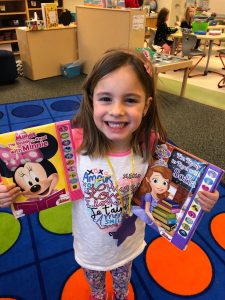 Dani loved sharing these fun books with sound buttons!
We will start a new series of star student sharing next week.  Thank you so much for helping your Kindergartner pick their favorite books to bring in and share with their classmates!  We LOVED hearing all of these books!!
Mystery Readers:
Danielle was so surprised to see her Grandparents from Wisconsin come through our door as our Mystery Readers!!  They shared with us the hilarious book

Stop that Ball!

by Michael McClintock.  An adorable tale about a boy and his runaway bouncing ball.  The Kinders loved this funny story!  
Colson was so excited to see his Grandma as our Mystery Reader this week too!!  She read us the amazing story about Michael Jordan as a young boy and his effort of determination and hard work to achieve his dream, 

Salt in His Shoes:  Michael Jordan in Pursuit of a Dream

by Deloris Jordan and Rosalyn Jordan.  
Upcoming Dates:
Monday, Jan. 22…GYM, TAKE HOME BOOKS PROGRAM STARTS – Kinders will bring home new book baggies with instructions.

Tuesday, Jan. 23…MUSIC, Bring Take Home Book back to school.

Wednesday, Jan. 24…ART, LIBRARY, Homework Due

Thursday, Jan. 25…STEAM

Friday, Jan. 26…GYM, Bring Take Home Book back to school.

Monday, Jan. 29…Olivia's B-Day!!!  Bring Take Home Book back to school.  Wonderful Winter Centers 10:15-11:15.

Friday, Feb. 2…Early Release Day, 12:15 Dismissal.
Monday, Feb. 5…NO SCHOOL, Winter Break
Tuesday, Feb. 6…NO SCHOOL, Winter Break

Wednesday, Feb. 7…Back to school!

Friday, Feb. 9…100 Days of School Celebration in K!

Tuesday, Feb. 13…Our Classroom Valentines Day Party…2:00-3:00 p.m., planning details coming soon.