Posted by
jstutz1

| Posted in Uncategorized | Posted on November 10, 2018
11/5 – 11/9
Popcorn Words:  am, are, little
Math:  This week we focused on learning some new math routines.  The kindergartners learned how to count the teen numbers by showing fast freeze 10 and some more.  For example, they say "10 is 10 plus 1 more."   We also added 1 to numbers 1-9 to make numbers.  The kinders loved using pennies to practice adding 1 to numbers on our blue math mats.  They did a GREAT job of noticing the different patterns when we added these numbers.  Noticing that each number sentence has a + 1, each answer increased by 1.  One student noticing, "Hey it looks like stairs!"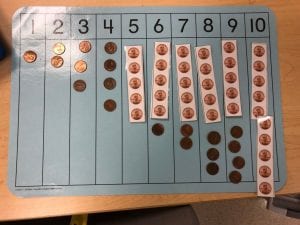 Readers Workshop:  In readers workshop, the Kinders have done a GREAT job practicing private reading and each skill that we learned this week.  The kinders learned that readers work hard to help themselves solve problems.  Using pictures to help remind them of the story they are reading.  They also got a BIG kick out of using our special pointers to remember to use our fingers to point to the words on each page as we read.  Noticing that there are words we might know to help us tell the story.
Writers Workshop:  We continued our work as scientific writers this week.  The kinders loved practicing this skill.  We looked at several nonfiction books to give us an idea of what scientific writers might write about.  Scientific writers write about things that they are interested in or things around us.  So, the kinders explored their environment and had fun being scientific writers.  They drew and wrote about Mrs. Stutz, an object of their choice in the classroom and a beanie baby of their choice during our writer's workshop time.  They LOVED labeling me and did a GREAT job drawing all the details of each object they wrote about.  We focused on hearing beginning and ending sounds in words as we stretched words.  We will continue to grow as scientific writers next week as well.
Mystery Reader:
This week Kendall was so excited to see her Dad, Mr. Rodriguez and little sister Kyla walk through our door as our Mystery Reader.  Mr. Rodriguez read us

Charley the Bulldog's Daring Dreams

by Andy Frisella.  An adorable tale of two bulldogs and their dreams.  Teaching us that even the biggest dreams are possible!
Conference Thank you:  I cannot thank you enough for attending parent/teacher conferences this week!  It was such a pleasure to get a chance to chat with you about your Kinders progress.  If at any time you ever have any questions please email me at jstutz1@hpseagles.net.  I LOVE my job and am so lucky to be able to do something I LOVE so much.  Thank you for sharing your child with me everyday!!
Upcoming Dates:
Monday, Nov. 12…ART, LIBRARY *Many books have already been returned – due to Book Fair, we did not check books out this last week.

Tuesday, Nov. 13…STEAM

Wednesday, Nov. 14…MUSIC

Thursday, Nov. 15…GYM

Friday, Nov. 16…ART…Disguise a Turkey due.

Tuesday, Nov. 20…Nolan's B-Day!

Wednesday, Nov. 21 – Friday, Nov. 23…NO SCHOOL, Thanksgiving Break

Friday, Nov. 23…Braxlee's B-Day!

Sunday, Nov. 25…Keller's B-Day
More pics from the week:
WE LOVED THE FIRST SNOWFALL!!
The slide goes so fast in the snow!  Even Mrs. Stutz went down a few times : ) I LOVE THE SNOW!!!
Catching snowflakes on our tongues!!