Posted by
jstutz1

| Posted in Uncategorized | Posted on January 13, 2019
1/7 – 1/11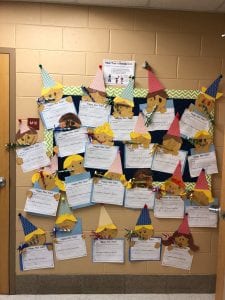 Happy New Year!! 
It was SOOO WONDERFUL to be back at school this week and see your sweet Kinder!!!  I truly missed each and every one of them!!  They were full of so many great stories and happy moments of the break.  To start our week off we talked about the New Year and resolutions/goals that many people make.  The kinders celebrated the new year back at school by making a resolution, and how they will reach it, of their own and creating a New Year craft of themselves.  There are some GREAT resolutions:  to play better with my brother, to read, to help my Mom, to ride a bike, to swim.  We are off to a GREAT 2019!!!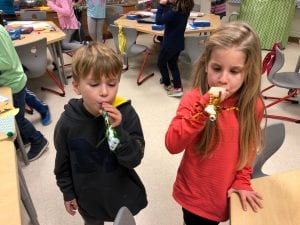 Popcorn Words:  at, that.
Math:  We are continuing to dive into Unit 3: Teen numbers as tens and ones.  This week we worked in with our math partners and in our math groups to work on finding missing numbers to make a number sentence that equals 10.  We also explored shapes.  The kinders used two triangles to make a square.  They also drew lines from corners of shapes to show how shapes can make up other shapes.
Writers Workshop:  This week we dove into a new Unit of Writing: Small Moment Writing.  We learned that a small moment is a true story that happened to us and is a small part of a larger story.  The kinders compared a watermelon to a larger story, like a whole vacation.  Then comparing a seed out of the watermelon as a small moment, like a favorite part of their vacation.  We practiced writing a small moment story about opening a present.  The kinders first told their story across their fingers, using the words first, then and next when telling their story.  Then they sketched their story across their page, adding sentences to match their picture.  We are off to a GREAT start!  
Readers Workshop:  We worked on using our partner power and exploring more of our reader super powers.  The kinders added picture power and sound power.  Noticing that pictures can often help us discover what a word is.  However, they also learned that sometimes a picture is not the only thing that can help them figure out a word.  They need to also use sound power to try to figure out a tricky word.  Looking at the first letter and then stretching sounds in a word.  Engaging all of their super powers to figure out tricky words and never giving up!  The kinders also worked with their partners to read a book together, exploring a page they really liked and hunting for snap (also known as sight or popcorn) words.
Word Work:  Everyday the kinders explore different phonics and literacy skills.  This week the kinders explored the short a sound and putting letters together to make words and then sentences.  
Mystery Reader:  This week Kellen was thrilled to see his Grandma walk through our door as our Mystery Reader.  She read us the hilarious story about Penelope Rex and her classmates, We Don't Eat Our Classmates! by Ryan T. Huggins.  The kinders loved this funny story!  Thank you for visiting with us, Grandma Ayres.
Kinders Showing Kindness:  I have a HUGE passion for showing random acts of kindness.  In our classroom, I strive to show the kinders how to appropriately and kindly interact with one another.  Being mindful of their tone of voice, using kind words and even helping others that need an extra hand.  As part of this idea of kindness, I am also creating a kindness corner.  This corner of our classroom is a place where the kinders can create a card for someone they don't know who might need a little bit of sunshine in their day.  These cards are then given to people in our community unexpectedly.  A kind act that can brighten someone's day.  The cards cannot have last names on them and no information about your child is given.  
Quiet Time:  Well, the time of our year has come, no more quiet time.  With our growing curriculum, this is the time in Kindergarten that we slowly pull away from quiet time and insert more learning time.  After lunch, we are having a quieter reading time together and independently.  So, all cuddle buddies get to come or stay home now.  
Reminder:  Please be sure to pack your Kinder 2 snacks daily.  We have an a.m. and p.m. snack time every day.  Unless it's an early dismissal day.  Then we only have our a.m. snack time.  I am always in need of extra graham crackers if you are looking to send in any supplies.  They go fast!
Where in the World is Mrs. Stutz?:  I just wanted to let you all know that I will be gone this week, Wednesday – Friday.  I am attending a work function with my husband.  The kinders will be in GREAT hands while I am gone.  They will have Mrs. Fredrick on Wednesday and Thursday and then Mrs. Brock on Friday.  Both are amazing subs in our building.  The kinders know Mrs. Brock very well and have seen Mrs. Fredrick in our building several times.  It is VERY hard for me to leave "my" kinders for several days!!  I will be talking to them about my absence to prepare them for a change for a few days.  If you have ANY changes to schedules please let the office know, they will get any messages to the sub.  
Upcoming Dates:
Monday, Jan. 14…MUSIC, LIBRARY – return all library books.

Tuesday, Jan. 15…GYM

Wednesday, Jan. 16…ART, Mrs. Stutz gone-Mrs. Fredrick subbing.
Thursday, Jan. 17…STEAM, Mrs. Stutz gone-Mrs. Fredrick subbing.
Friday, Jan. 18…MUSIC, Mrs. Stutz gone-Mrs. Brock subbing

Jan. 21…Logan 1/2 B-Day celebration!  MLK, Jr. Day.

Jan. 22…Take Home Books come home.

Jan. 24…Weston 1/2 B-Day celebration! Bring Take Home Books to school.

Jan. 25…Kendall 1/2 B-Day celebration!