Posted by
jstutz1

| Posted in Uncategorized | Posted on January 26, 2019
1/21 – 1/24
I hope you ALL enjoyed the snow day today!  The kinders know I LOVE THE SNOW!!!  Even I had some fun in it today!  On Thursday it was coming on strong at our last recess!  As you can tell by these recess pics of a few of our friends!
Popcorn Words:  he, she.  The kindergartners did a great job this week with discovering all about long e in these popcorn words.  Noticing that the word she has the word he as part of it too!  
Math:  This week we worked on teen numbers and number sentences.  The Kindergartners did a GREAT job of playing a couple of Math games with a partner.  First they explored teen numbers and number sentences that match.  The kindergartners found the matching partners with these cards.  Pairing up a teen number with the correct 10+ _ number sentence.  They did a GREAT job!  They also worked on creating number sentences by looking at a picture that separated a group of objects.  Noticing that a line, or break apart stick, separated the number of objects.  Then they would write out a number sentence that matched the picture shown.  They are developing so much in their Math ability!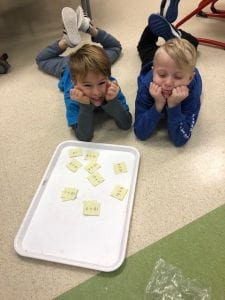 Writers Workshop:  This week we continued to work on writing small moment stories.  The kinders explored adding details to pictures, matching words to their pictures and writing a small moment story.  This week we wrote about a small moment story of our own choice.  It was a great way for me to see how they are doing with the process that they have been taught.  I was amazed at how well they did!!  So many of them are able to understand the process.  I saw small moment stories that were about being tucked in to bed, about playing outside with a friend, a wrestling match and so many more.  We will continue to explore small moment writing throughout February.  The Kinders REALLY enjoyed sharing these stories with their friends.  They LOVE to see each others work!! 
Readers Workshop:  This week we explored how we can notice patterns in books and how the patterns help us "sing out" the words we read.  Reading them with ease and just the right amount of fluency.  We talked about how we can build our fluency power when we read.  When we first read a new word we might sound a little bit like a robot…or have a slower fluency.  As we grow as readers our speed or fluency of reading grows stronger and we can read those words with just the right amount of fluency.  The Kinders also explored how punctuation can change how we read words.  Noticing quotation marks, commas, periods, exclamation points and questions marks in our books.  We practiced saying sentences with these different marks to practice how we might sound given the different punctuation.  The kinders loved this discovery!  They had fun using expression as they read these marks in their books.
Mystery Readers:
On Monday Logan was absolutely THRILLED to see his Mom and little sister Bristol walk through our door as Mystery Readers!  Mrs. Castle read us the book

The Gingerbread Man Loose on the Fire Truck.

  The kinders loved hearing this funny book about the Gingerbread Man!  Thank you for visiting with us Mrs. Castle and baby Bristol!!
On Tuesday Kellen was so EXCITED to see his Grammy be our Mystery Reader!  She read us the funny story about a Mole who couldn't find his way home,

Mrs. Mole I'm Home!

  Thank you so much for reading to us!!
Last week Friday Kellen was surprised by his Mom as our Mystery Reader!  The kinders LOVED hearing the story

The Day the Crayons Quit.

  A hilarious book told from the side of the crayons!  Thank you for visiting with us Mrs. Sinke!!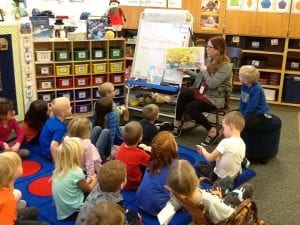 Valentines Party:  Thank you to several parents who have emailed about our upcoming Valentines Day Party!!  We will get the planning underway soon and details will be coming your way.  Our classroom party will be on Thursday, Feb. 14 at 1:50 p.m.  Each kinder will be making a Valentines mailbox at school for Valentines.  A letter will be coming home Monday with labels to help with addressing valentines from your child.  We have no allergies if you are planning to attach any candy with your valentines.  
Upcoming Dates:
Monday, Jan. 28…LIBRARY, ART, LIBRARY BOOKS DUE!!  Celebrate Kendall's 1/2 b-day!  Celebrate Bryce's 1/2 B-Day!
Tuesday, Jan. 29…STEAM, Return Take Home Book Bags 

Wednesday, Jan. 30…MUSIC

Thursday, Jan. 31…GYM, Return Take Home Book Bags
Friday, Feb. 1…ART,

Early Release – 12:15 p.m. dismissal

Feb. 2…Mrs. Stutz's b-day (25 again!)

Feb. 4…NO SCHOOL – WINTER BREAK

FEB. 5…NO SCHOOL – WINTER BREAK

Feb. 14…1:50-3:00 – Our classroom Valentines Day Party!