Posted by
jstutz1

| Posted in Uncategorized | Posted on March 24, 2019
3/18 – 3/22
Popcorn Words:  there, where, were.  Whew!  These words are some of the trickier sight words we have learned.  We listened to fun videos from Jan Richardson and Jack Hartmann and also watched a funny Mr. Clown's Word of the Day video.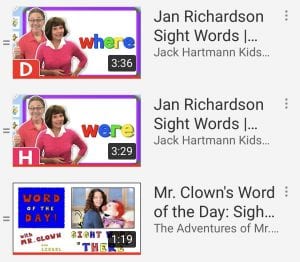 Math:  This week we looked at groups of 5 in number sentences that equal 10.  Noticing that when we see 10 drawn as 2 groups of 5 we can count quicker.  We can grab the 5 we see quick and then count on.  We also practiced writing numbers, finding numbers that are greater than and less than other numbers.  The Kinders also discovered 3-D shapes.  Noticing that a 2-D shape has a length and a height and is flat.  However, a 3-D shape takes up more space.  A 3-D shape has a length, width, height and more dimension to it.  We explored the different 3-D shapes around us.  Finding spheres (ball), cubes (box), cylinders (water bottles), cone (ice cream cone), cuboid (kleenex box).  
Readers Workshop:  This week we continued to explore about being Avid Readers.  Learning that Avid Readers make goals as readers.  Always wanting to improve their reading skills as they develop as readers.  The Kinders practiced working on 3 reading goals this week.  Avid Readers love to share favorite parts in books.  The Kinders looked at books together and decided on parts they would like to share, adding sticky notes in books.  They also explored that they can even have a Reading Playdate with books!  The kinders can play school with a book, they can play games with a book or even play pretend with a book.  It was fun to see the Kindergartners explore books with them deciding what they wanted to do on a Reading playdate.  I LOVED seeing all the different choices!  Many LOVED playing school and being a teacher or student to explore books.  It was also fun to see those who made games out of finding sight words in books.  Those who chose to act out books were so fun to watch!  Getting these Kinders excited about reading has been so much fun!!  We have LOTS of Avid Readers in our classroom!
Superstar Book Lovers this week:
Writers Workshop:  We finished writing our first All About Book this week.  The kinders wrote, All About Chickens.  They learned how to organize the information they found, using a tree map to list information found, also putting the information into a book form.  Using pictures, sentences, and labels to make their All About Chickens book.  We will be discovering all about Bears next.  With this new type of writing, it has led us to explore the two different types of books:  Fiction and Non-fiction.  Noticing that Fiction Writers are telling a made up story with characters.  We looked at "Fiction Fran" and how she enjoys this kind of book most.  While Non-fiction writers are using facts to teach about a topic.  "Non-fiction Ned" LOVES facts and learning all he can about things around him.  We are all working hard to be Non-fiction Ned's during this All About Writing unit.  
Flashlight Fun:  The Kindergartners had LOTS of fun learning with the lights off on Friday!  They LOVED reading with their flashlights, doing Math and wrapping up our week with flashlight fun.  Each Kinder did get a flashlight from Mrs. Stutz to bring home.  Shining some extra light on reading was great fun!
Mystery Readers:
Charlotte was THRILLED to see her Dad, Mr. Becker come through our door as a Mystery Reader this week.  Mr. Becker read us the very timely book,

Apples and Robins

by Lucie Felix.  This adorable spring book made great pictures as one thing transforms into another as the pages turn.  Thank you for visiting with us, Mr. Becker!!  
Brooklyn was SO EXCITED to see her Mom and little brother as our Mystery Readers this week.  Mrs. Vaiana read us the great book, I Like Myself! by Karen Beaumont.  This adorable book teaches us all about self-esteem and appreciating everything about ourselves, inside and out.  Reminding us to always be ourselves!  Thank you for reading to us Mrs. Vaiana.
Bryce was SO SUPRISED to see his Mom and little sister as our Mystery Readers Tuesday.  Mrs. Dunbar read us 

Diary of a Worm

by Doreen Cronin.  The Kinders got a great laugh out of this funny book.  In this book a little worm chronicles his life, learning all about the world around him.  We LOVED all the things this worm discovered!  Thank you for visiting with us Mrs. Dunbar.  **Pics coming – my tech savvy-ness/less forgot a cord to download today.
Ms. Yankee's 2nd graders also surprised us as Mystery Readers this week.  They shared the book,

Beautiful Oops!

by Barney Saltzberg.  This adorable book teaches us all about how a mistake is OK.  A mistake can be an adventure in creativity!!  The kinders had so much fun making a mistake on a piece of paper and then creating something wonderful with their 2nd graders with their mistake.  Thank you for visiting with us Ms. Yankee's 2nd graders!!
March is Reading Month Fun:  We had lots of yummy fun during our snack time with two fun book related snacks this week. The Kinders LOVED their yummy Diary of a Worm snack this week (chocolate pudding, cookie crumble and gummy worm).  They also loved having a yummy muffin while listening to a couple classics Good Morning, Muffin Mouse and If You Give a Moose a Muffin.  
Upcoming Dates:
Monday, March 25…LIBRARY, ART, Bring your library book

Tuesday, March 26…STEAM, Bring your Take Home Book

Wednesday, March 27…MUSIC

Thursday, March 28…GYM, Bring your Take Home Book, P.J. Day – bring a cuddle buddy to read with!

Friday, March 29 – April 7…NO SCHOOL – Spring Break

Monday, April 8…Back to school!