Posted by
jstutz1

| Posted in Uncategorized | Posted on November 17, 2018
11/12 – 11/16
Popcorn Words:  or, for.  The kindergartners did a GREAT job discovering that the word or is inside for.  They also noticed that for is not the same as four, they sound the same but are spelled differently.  
Math:  This week in Math we explored shapes.  We looked at the Hexagon and noticed it has 6 sides and 6 corners.  The Kinders did a GREAT job of sorting shapes into Hexagons and NOT Hexagons.  The Kinders also explored different ways to sort shapes.  They sorted by color, shape and straight sides, not straight sides.  We also had fun finding shapes in pictures and making some too.  The Kindergartners also worked on +1 and -1 from numbers 1-10.  It was fun to listen to the song 10 Little Turkeys and practice the -1 using our fingers as we sang the song.  We had fun with our Math games on Friday.  The Kinders "wrote the room", where they looked for fall pictures and counted the objects then wrote the number.  They also played a +1 dice game where they rolled numbers and then +1 to the number, then colored in the number it equaled.  Finally, they played a ten frame dice game.  The Kinders rolled a dice with ten frames on it, counted the ten frame and then wrote the teen number.  They LOVE Friday Math games!!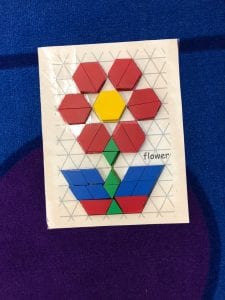 Literacy:  This week we have added 8 literacy stations to our literacy time.  The students get to decide where they go each day.  Making sure to visit each station throughout the week.  As they rotate to stations on their own Mrs. Richter (our K para-pro) and I meet with small groups to work on specific literacy skill building.  I am absolutely AMAZED at our class!  They have been able to do this very independent task SO WELL!!
Writers Workshop:  This week we continued to work on writing like scientists.  We chose one object to focus on all week.  The kinders wrote different attributes of their chosen object.  One day we wrote about how our object felt, is it soft or hard?  The next day we wrote what the main color of our object.  We then wrote the name of our object.  We are putting these pages together to make a book.  The Kindergartners have done a GREAT job looking closely at all the details of objects, adding labels and writing sentences that match.
Handwriting:  This week we worked hard on finishing our lowercase letters.  The last letters we worked on were the tails family (y, j, g, p, q).  The kinders did a GREAT job of learning how to write all of their lowercase letters.  We will start practicing our handwriting of uppercase letters next.
Readers Workshop:  During readers workshop, we did a GREAT job of working with our partners.  The kinders explored different ways that illustrators and authors show or write how characters feel.  They labeled feelings that they found in books.  Then shared what they found with their partners.  We even labeled important words, characters and parts in stories.  
PE Cares:  Thank you SO MUCH for donating to our PE Cares Food Drive!!  Our class donated over 50 items to the cause!!  The Kinders LOVED carrying the donations down to PE.  
Stone Soup Fun:  This book is a family favorite in my house.  The Kinders enjoyed reading the story Stone Soup by Ann McGovern.  They also enjoyed adding the ingredients to the pot to make our own Stone Soup.  At the end of the day, we got to try the soup if we wanted.  We had 7 friends that liked the soup and 10 that did not.  It was so fun to share this classic tale with them.  As the story says, "soup from a stone, imagine that!"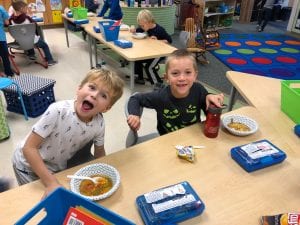 YUM, we liked the stone soup!
Well…..no thanks, we don't like stone soup!
Mystery Reader:  Wesley jumped right into his Dad's arms as he saw him walk through our door today as the Mystery Reader.  Mr. Koopmans read us the funny tale of Skippyjon Jones, Lost in Spice by Judy Schachner.   In this story, Skippyjon Jones is convinced that Mars is red because it is covered in spicy red peppers.  He travels to Mars and has all kinds of fun exploring the planet.  Thank you for visiting with us, Mr. Koopmans!
Pizza Party:  GREAT NEWS!!  Our class won a Jets Pizza Party!!  Thank you for ordering Jets and giving our class a pizza party!!  I am planning to have the Pizza Party on Monday, Nov. 19.  We will be having cheese and pepperoni pizza from Jet's Pizza.  I will be providing juice boxes, fruit and vegetable choices.  School lunch choices and milk are also available to order.  Please let me know if you have ANY questions, jstutz1@hpseagles.net.
Outstanding Students:  Keaton, Avery, and Emma all received an Outstanding from Mrs. Reagan.  Keaton and Avery won there's for showing growth mindset and demonstrating their ability to follow our school rules of being nice, working hard and learning well.  Emma won hers for being an Upstander.  Always wanting to help others and standing up for others if they need help.  We are so proud of them!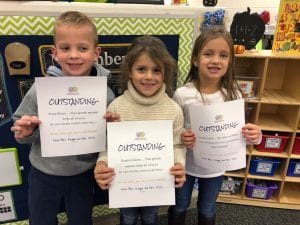 Why are your snow clothes so dirty?  Here's a few pics that explain it all:
Upcoming Dates:
Monday, Nov. 19…STEAM, LIBRARY, CLASS JET'S PIZZA PARTY.  *Bring Library book today.
Tuesday, Nov. 20…MUSIC, Thankful Centers 2-3 p.m. – volunteers please plan to arrive at 1:40 p.m.  Nolan's B-Day!!!

Wednesday, Nov. 21 – Friday, Nov. 23…NO SCHOOL, Thanksgiving Break.

Friday, Nov. 23…Braxlee's B-Day!!!

Sunday, Nov. 25…Keller's B-Day!!!

Dec. 7…Colton's B-Day!!!

Thursday, Dec. 13…School Holiday Music Program – 6:15 p.m. Parent Drop off, 6:30 p.m. K-2nd Grade Perform.  

Friday, Dec. 14…Early Release

Dec. 21…Brody's B-Day!!!

Monday, Dec. 24 – Friday, Jan. 4…NO SCHOOL, Holiday Break. 

Dec. 26…Elijah's B-Day!!!

Dec. 27…Piper's B-Day!!!

Dec. 31…Bryson's B-Day!!!

Monday, Jan. 7…Back to School!!